Customized herbs and spice mixes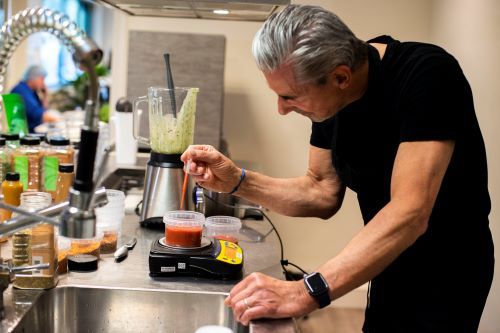 Natural Spices has been your natural tastemaker since 1935. We know what people like today. And tomorrow. We're here to put healthy food on the menu. Our drive is to make food as natural as possible for a healthier life. We believe the basis of good and nutritious food start with 100% natural herbs and spices — whether you run a star restaurant, food brand, or a large kitchen. Taste our flavours and become an instant fan for life.
YOUR UNIQUE AND CHARACTERISTIC TASTE IS OUR SPECIALTY.
Together with chefs and food brands we develop and produce unique spice mixes, sauces, marinades, dressings, soups and dishes. Many delicious products and (star) dishes already get their secret ingredient from us, which is something we can also develop in close cooperation with you. Together we can come up with unique flavours or food concepts from scratch. Or you come up with the unique recipe and we'll make your 'secret ingredient'. We'll always make sure you will get the finest quality goods. Sourced close at the origin. We just want the best for everyone - from farm to fork.
Everything we make and develop can be sold using your own branding. Whether you're a food blogger about to launch your own BBQ line or looking for a low-calorie syrup for your pancake franchise. Need a tasty yet gluten-free and low on sodium hamburger mix for the company canteen? We'll turn your idea into a product within 40 days.
Consider us your partner. We'll help you throughout the entire process; from idea to end product. We can even design and help you further with the packaging.
PREFER A 100% NATURAL READY-MADE PRODUCT WITH CHARACTERISTIC TASTE?
Let us know what you're looking for. Chances are we already have it in our product range. If not, we'll develop it or adapt an existing product. Recipe development is on us. No problem. Not even when it comes to small quantities. Our research & development continuously develop new products that meet the needs of the food market. Like our low-calorie mayo and ketchup, which are flying off the shelves at our Dutch retailers.
Our ready-made Natural Spices products can also be produced using your own branding and packaging.
Whether you run a star restaurant or a snack bar, a butcher or bakery, a school community, or a hospital. We're here to help everyone who wants to put healthy food on the menu. A small order via our online webshop or the development of a completely new food product? With our seasonings, we make food as natural as possible to live healthier lives.
LOOKING FOR A PARTNER IN DEVELOPING YOUR UNIQUE FOOD CONCEPT? IN SEARCH OF A COMPLETELY NEW TASTE? OR HAVE YOU CREATED A RECIPE AND 'JUST' NEED THE SECRET INGREDIENT?
Schedule a video call with us right away
.
Have specific questions? Please share! So we can ensure the right expert is seated at your table. You can also reach us by
phone
or send an
email
.
We will do our utmost to answer you within 24 hours.
Ps. Did you know we have our own health & sports production line too?
Especially for health & sport brands, we develop natural flavoured protein powder, low-calorie sauces, syrups and more. All born out of love for a healthy and fit lifestyle. And great taste. Of course! Reach out to us and we will tell you all about it.